Guide to Winter Festivals (December-February)
01-12-2018 04:22 AM
Winter in Korea means plenty of festive gatherings, from Christmas to New Year's Eve parties. As December comes to an end and the year draws to a close, people gather at sunrise festival Venues across Korea to welcome in the first sunrise of the New Year. January and February are perfect for reveling in the chilly weather by visiting snow and ice festivals. Each region has its own unique winter culture and specialty products, for endless opportunities to enjoy an active winter in Korea.
December's Lighting Festivals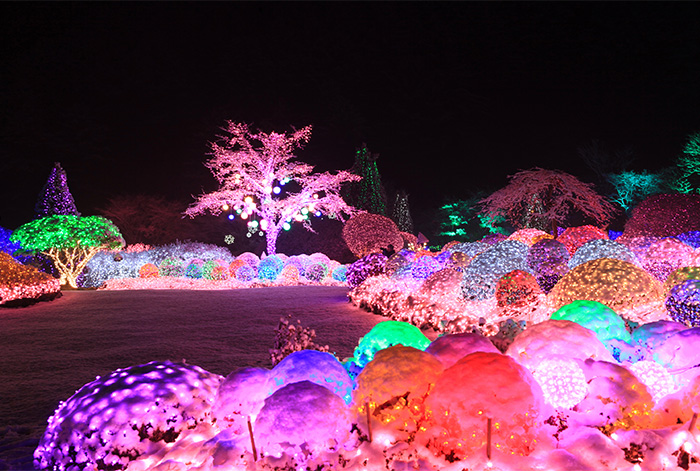 Credit: The Garden of Morning Calm
Period: December 5, 2018-March 24, 2019
Venue: The Garden of Morning Calm
432, Sumogwon-ro, Sang-myeon, Gapyeong-gun, Gyeonggi-do / 경기도 가평군 상면 수목원로 432 아침고요수목원
Held at the Garden of Morning Calm, the Lighting Festival is one of the biggest light festivals in Korea, covering nearly 330,000 m2 with lights. With different themes every year, the gleaming lights add a festive glow to the natural beauty of the garden during the winter season.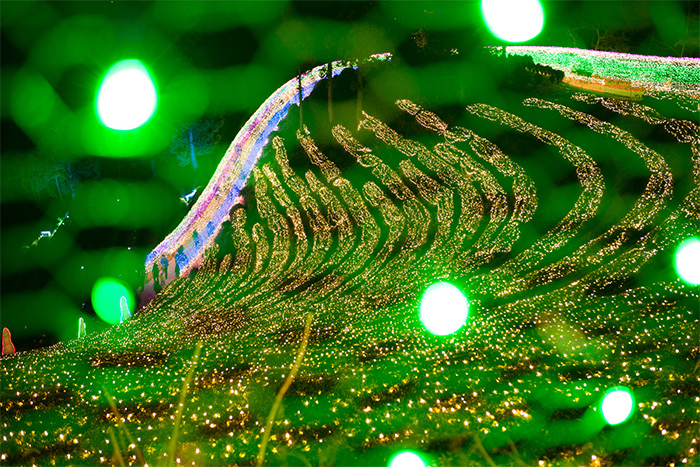 Period: December 14, 2018-January 13, 2019
Venues: Areas of Korea Tea Culture Park and Boseong Tea Plantation
Korea Tea Culture Park, 775, Nokcha-ro, Boseong-eup, Boseong-gun, Jeollanam-do / 전라남도 보성군 보성읍 녹차로 775 한국차문화공원
The magical allure of the Boseong Green Tea Fields grows tenfold in winter as bright Christmas lights cast a cheery glow over the expansive fields. The themed spaces and exhibits bring "Christmas decorations" to a whole new level.
New Year's Sunrise Festivals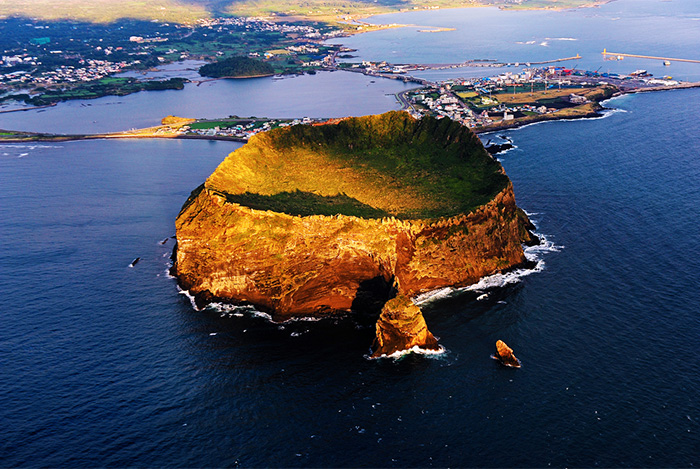 Period: December 30, 2018-January 1, 2019
Venue: Seongsan Ilchulbong Peak
284-12, Ilchul-ro, Seongsan-eup, Seogwipo-si, Jeju-do / 제주특별자치도 서귀포시 성산읍 일출로 284-12 성산일출봉
Join the countdown and welcome of the New Year at Jeju's premier sunrise attraction, Seongsan Ilchulbong Peak (also known as "Sunrise Peak"). In addition to the beautiful sunrise, the festival will also feature parades, performances, firework shows, the distribution of tteokguk (rice cake soup), and other events.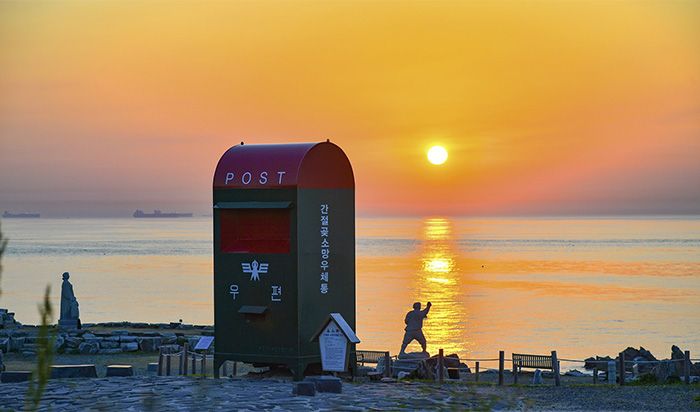 Credit: Ulsan-si
Period: December 31, 2018-January 1, 2019
Venue: Areas of Ganjeolgot Cape Park
Daesong-ri, Seosaeng-myeon, Ulju-gun, Ulsan / 울산광역시 울주군 서생면 대송리 간절곶
Ganjeolgot Cape is popular as a place to observe the earliest sunrise in Korea. People all across the nation gather to celebrate and watch the first sunrise of the New Year here. New Year's celebrations also include a wide array of events such as fireworks, eating tteokguk, and a wide range of performances. Attractions nearby include thick groves of pine trees, oddly shaped rock formations and Oegosan Onggi Village.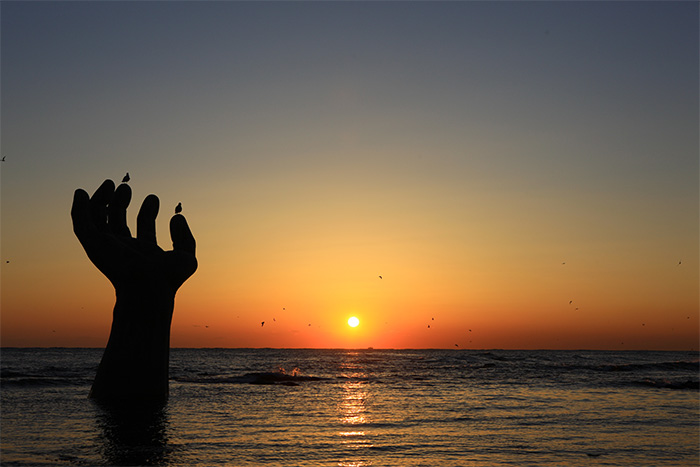 Period: December 31, 2018-January 1, 2019
Venue: Homigot Sunrise Plaza
136, Hamaji-ro, Homigot-myeon, Nam-gu, Pohang-si, Gyeongsangbuk-do / 경상북도 포항시 남구 호미곶면 해맞이로 136 호미곶 해맞이 광장
Homigot Cape and its beach area, where the Homigot Sunrise Plaza is located, is definitely one of the most popular places for watching the New Year's sunrise due to its brilliant yellow and golden sunrise scenery. People can enjoy a variety of performances and fireworks to celebrate the New Year's Day.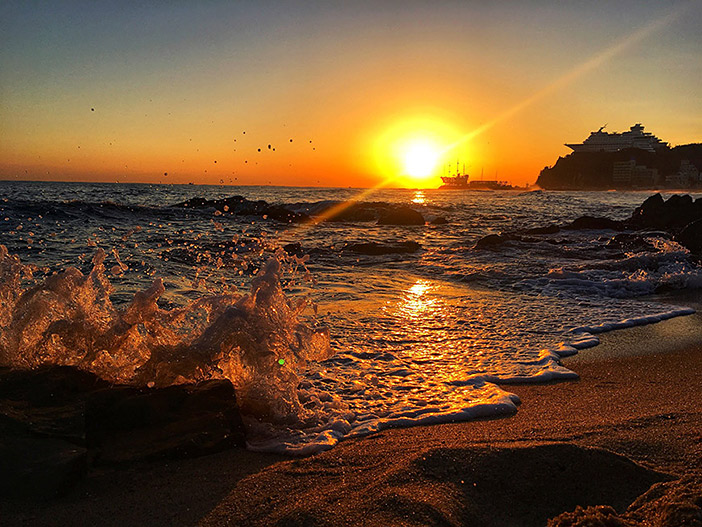 Period: December 31, 2018-January 1, 2019
Venue: Areas of Sandglass Park at Jeongdongjin Beach
990-1, Heonhwa-ro, Gangdong-myeon, Gangneung-si, Gangwon-do / 강원도 강릉시 강동면헌화로 990-1 정동진 해수욕장 모래시계 공원
Jeongdongjin's landmark can be characterized by a large sandglass nearby the beach. The beach's sandglass takes one full year for the sand in the top bulb to completely fall to the bottom. As midnight of the New Year's Day approaches, the last remaining grains trickle down and the sandglass is turned over once again as part of a grand ceremony, kicking off the brand-new year.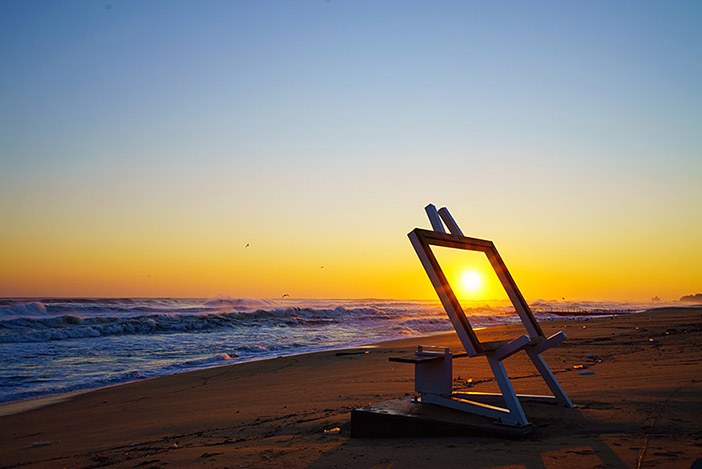 Period:December 31, 2018-January 1, 2019
Venue: Areas of Gyeongpo Beach
San1-1, Anhyeon-dong, Gangneung-si, Gangwon-do / 강원도 강릉시 안현동 산1-1 경포해수욕장
Gyeongpo Beach is well-known for its beauty, which shows itself in different lights throughout the year. On New Year's Day, people gather for a huge celebration counting down the seconds until the New Year, watching fireworks and participating in an array of programs and cultural events.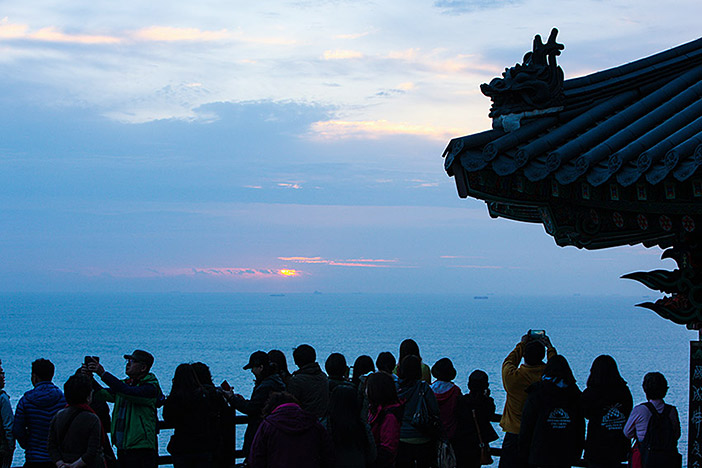 Period: December 31, 2018-January 1, 2019
Venue: Areas of Impo Village and Hyangiram Hermitage
Yullim-ri, Dolsan-eup, Yeosu-si, Jeollanam-do / 전라남도 여수시 돌산읍 율림리 임포마을 일대
Hyangiram Sunrise Festival is an annual overnight festival attended by those who want to enjoy the view of the New Year's sunrise. Various events, such as the lighting of wishing lanterns and candle ceremony, are prepared for visitors to enjoy.
Active Festivals to Keep Warm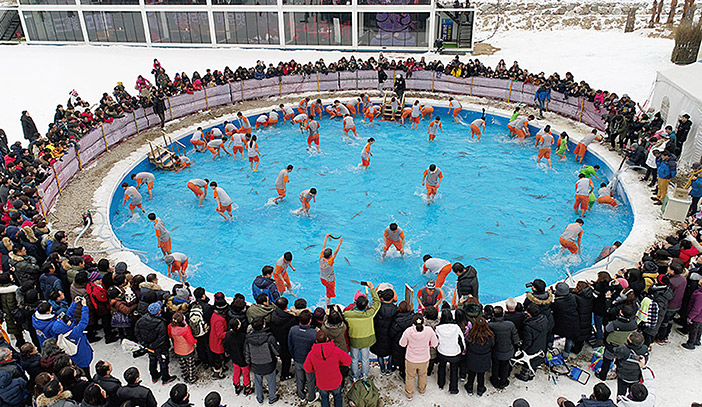 Credit: Pyeongchang-gun
Period: December 22, 2018-January 27, 2019
Venue: Areas of Odaecheon Stream
3562, Gyeonggang-ro, Jinbu-myeon, Pyeongchang-gun, Gangwon-do / 강원도 평창군 진부면 경강로 3562 오대천 평창송어축제장
Pyeongchang Trout Festival annually takes place in Pyeongchang-gun, the largest trout producer in Korea. Trout cultivated in the clear waters of Pyeongchang are popular for their rich and chewy texture. At the festival, visitors can enjoy ice fishing along with other fun activities such as barehanded fishing and sledding. The festival venue is also close to Alpensia Ski Resort and Yongpyong Ski Resort, where PyeongChang 2018 Winter Olympic Games took place.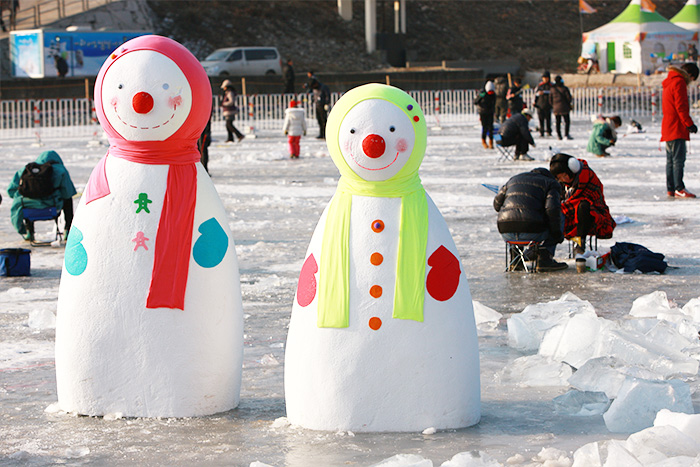 Period: December 14, 2018-February 17, 2019
Venue: Areas of Gapyeongcheon Stream
60, Jaraseom-ro, Gapyeong-eup, Gapyeong-gun, Gyeonggi-do / 경기도 가평군 가평읍 자라섬로 60 자라섬씽씽겨울축제장
The Jaraseom Singsing Winter Festival is famous for ice fishing for trout, and your catch can be eaten right away, raw or grilled! Other activities include ice sledding, riding bumper cars on snow, traditional experiences, and more. It is easy to reach Gapyeong simply by taking the ITX Cheongchun train from Yongsan Station. There are also popular attractions nearby such as Namiseom Island, The Garden of Morning Calm, and Petite France.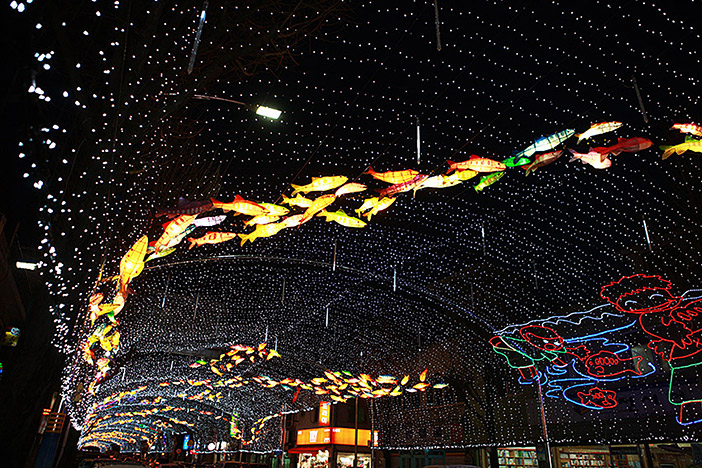 Period: January 5–27, 2019
Venue: Areas of Hwacheoncheon Stream
137, Sancheoneo-gil, Hwacheon-eup, Hwacheon-gun, Gangwon-do / 강원도 화천군 화천읍 산천어길 137 화천산천어축제장)
The Sancheoneo Ice Festival is held in the pristine natural environment around Hwacheoncheon Stream, the natural habitat of mountain trout and otters. One of the most popular programs at the festival is ice fishing, where people cut a hole through thick ice and try their luck at catching trout. Visitors can also brave the icy water and try catching fish barehanded. Helpful staff are available to ensure that even first-timers get a catch. Freshly caught fish can be consumed either raw or grilled on site.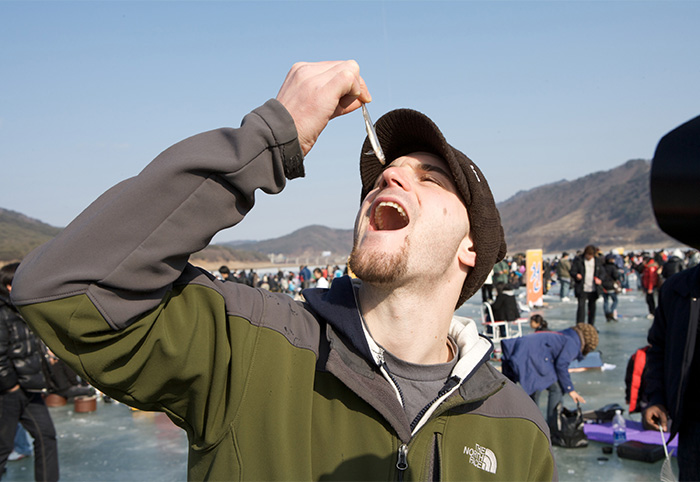 Credit: Inje-gun
Period: January 19-January 27, 20189
Venue: Areas of Bingeoho Lake
555-2, Bupyeong-ri, Nam-myeon, Inje-gun, Gangwon-do / 강원도 인제군 남면 부평리 555-2 인제빙어축제장
At Inje Icefish Festival, visitors can enjoy ice fishing and other exciting programs such as ice sledding, a large icefish sled, and snow slides. All the icefish caught by participants can be served as hoe (sliced raw fish) or deep-fried for a warm treat.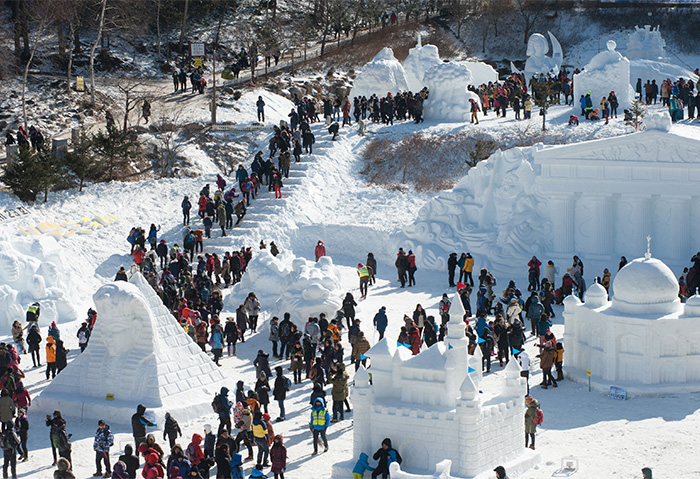 Credit: Taebaek-si
Period: January 18-February 3, 2019
Venue: Areas of Taebaeksan National Park and Hwangji Pond, Taebaek-si, Gangwon-do
162, Cheonjedan-gil, Taebaek-si, Gangwon-do / 강원도 태백시 천제단길 162 태백산눈축제장
Taebaeksan Snow Festival offers guests an array of events and activities that are sure to amuse and entertain everyone. In addition to performances and exquisite snow sculptures, visitors can participate in snow sledding with the beautiful Taebaeksan Mountain covered with snow as their backdrop.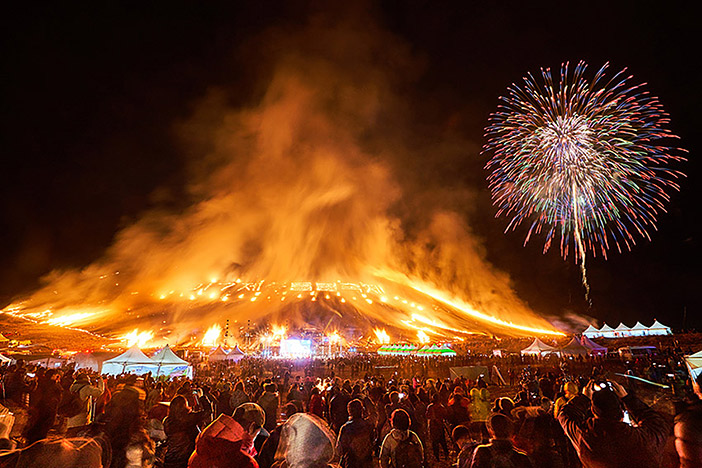 Credit: Jeju World Natural Heritage Center
Period: March 7-10, 2019
Venue: Areas of Saebyeol Oreum
San 59-8, Bongseong-ri, Aewol-eup, Jeju-si / 제주시 애월읍 봉성리 산59-8 새별오름
The Jeju Fire Festival is held annually to wish for a healthy and prosperous new year. Long ago, Jeju farmers would set fire to their fields to kill harmful bugs and encourage new grass for their cattle. This tradition is reenacted by setting an entire side of the mountain ("oreum") on fire. Visitors can also experience the traditional lifestyle and practices of Korea's farmers, including a traditional wedding ceremony at the festival.
※ Festival programs and schedules are subject to sudden changes based on the weather. Please check the information before visiting.
* This column was last updated in October 2018, and therefore information may differ from what is presented here. We advise you to check details before visiting.